Movie Transfers
PHOTOQ Melbourne can transfer almost any film format to DVD or USB.
We transfer VHS tapes, VHS(C), SVHS, 8mm, 9.5mm, 16mm, Digital 8, Video 8, Super 8, Hi8 and Mini DV, Umatic, Reel to Reel and Betacam to DVD.
We can even transfer your old audio tapes and Vinyl LPs to CD.
Read on to find out more or call us on (03) 9855 0006
We also take orders Australia wide: VIC, NSW, QLD, WA, SA, TAS and NT.
Click here to download and print our postal order form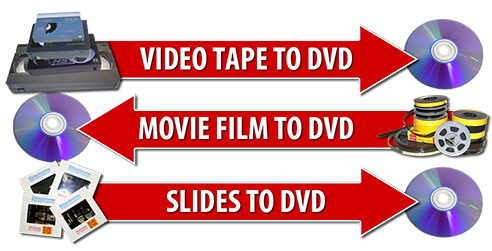 Q: Do you have home movies on camcorder tapes that you can't watch because the camcorder doesn't work?
Q: Is your wedding video on a VHS tape but you can't watch it because you no longer have a VCR?
Q: Have you got hundreds of slides of your children or when you were a child but the projector is broken?
Q: I'm not in Melbourne, can I post my tapes tapes to you? YES! Click here to find out more!
Bring them in to us here at PhotoQ and we can transfer your home and family movies to DVD, using the latest technology and professional authoring software to produce the best possible DVD for you. We can also convert your movies into a movie file that can be edited with your home computer. Supported movie media include: 8mm, 16mm, 9.5mm, VHS, VHS-C, Video8, Hi8, Digital8, MiniDV, Beta and Umatic.
We can also scan your 35mm slides onto CD or DVD so you can enjoy them once again!
So please don't hesitate, give us a ring on (03) 9855 0006 and we will be able to give you an instant quote.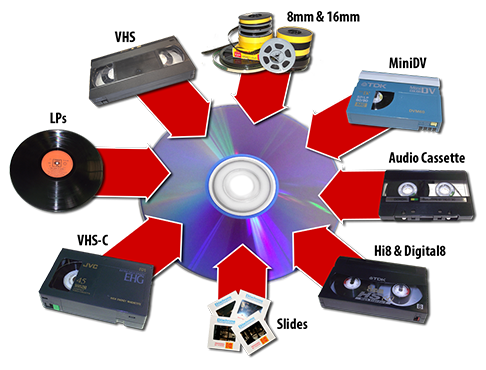 Tape & Movie File Formats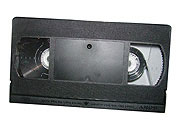 VHS
VHS would have to be our most popular format by far! VHS was introduced in 1976 and by 1990 was the standard video recording format for home users but in 1997 DVD was released and it only took a few years for it to take over. Compared to the high resolution of DVD and HD that we are used to now they are quite low quality, so don't be surprised if your home movies don't look as good as the latest Hollywood blockbuster. We can also do SVHS & SVHSC tapes.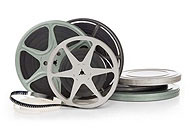 16mm, 8mm & Super 8mm
16mm was introduced in 1923 as a cheaper alternative to the 35mm movie format and 8mm was introduced in 1932 as a cheaper alternative to the 16mm movie format. If you're a baby boomer you will most likely have home movies of some sort on one of these formats and probably haven't seem them for some time. Why not get them put onto DVD and share them with friends and family? Popcorn not included.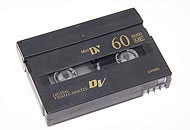 MiniDV
MiniDV was released in 1995 and quickly became the standard for home and semi-professional use. And even though the tape is the smallest of the various camcorder tapes available, it is the highest quality.
So whether you have a trip to Disneyland or a previously unseen avant garde short film shot on MiniDV, we will be able to put that on DVD for you no problem.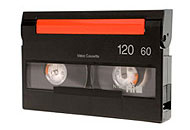 Video8, Hi8 & Digital8
Come on all of your budding Stephen Spielbergs and David Attenboroughs! 1985 saw the introduction of the first Video8 camcorder, a few years later a slightly higher quality version of Video8 called Hi8 was released and then in 1999 Digital8 was introduced, which used technology very similar to MiniDV but stored on Video8 tapes. Owners of any of these three media should be aware that the tapes are very prone to degradation and any tapes older than 15 years should be digitised as soon as possible.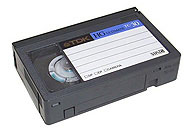 VHS-C or VHS
Compact was brought out in 1982 and was designed to be the compact version of VHS and actually uses the same magnetic media as VHS, only in a more compact form, this made the format very popular because it allowed people to use an adapter to play the tapes directly onto their VCRs, this feature alone made it more popular than Video8.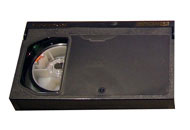 Beta & Umatic
Beta and Umatic are two now defunct video formats. You will most likely be familiar with Beta or Betamax as it was a bitter rival with VHS for many years, in the 80s you were either a Beta family or a VHS family, unfortunately for the Beta families VHS won the format war. Umatic is the granddaddy of all video formats, the first of it's kind and mostly had commercial and industrial uses. Who knows what is on that old Umatic or Beta tape! Only one way to find out...
Slide Scanning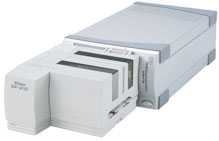 There wouldn't be too many families out there that weren't familiar with slides, whether it was enduring a slide night with Uncle Charlie after his trip away to Norfolk Island or just the regular old family snaps, chances are you'll have some sides stored away somewhere. Kodachromes were the most popular way to capture colour photos for decades, so popular Simon and Garfunkel wrote a song about it! Even Kodachromes that are well over 50 years old still have fantastic colour.
Here at PhotoQ we have dedicated slide scanners that can turn your old 35mm slides into brilliant digital images, perfect for sharing with the family online or printing. Some of your old slides may have shifted colour over the years but don't despair, we have full control over the colour during the scanning process and can often restore your long forgotten memories to like new.
We are also able to scan your 35mm & medium format negatives.
Just ring us on (03) 9855 0006 for a quote.
Other Services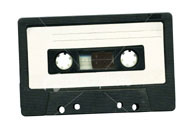 Audio Cassettes & Reel to Reels
Mix tapes were the best weren't they! Playlists will never replace a good mix tape, maybe you made one for a road trip or maybe you made on for your girlfriend. The Compact Cassette as it was known was introduced in the early 60s and had a good run until the early 90s when CDs came out. We can put your audio cassettes and reel to reels onto CD for you. I'll never forget the day my walkman ran out of battery and Kylie Minogue sounded like Rick Astley. We even to 8-track.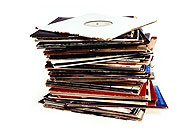 Vinyl LPs
Who hasn't got a couple of these babies laying around the place? You just can't beat the sound and they don't quite sound the same on MP3 do they? Maybe you still listen them? Maybe you want to listen to them in the car! Vinyl records were first introduced back in the late 40s and (apparently) left the mainstream in 1991. We can transfer your old (or new) 6", 12" & 78s to CD so you can enjoy them again or maybe just more conveniently.

But wait, there's more...
Hard drive HDD video camera transfers
Mini DVD & CDR video camera transfers
NTSC to PAL conversions
Micro cassette transfers
Powerpoint presentation transfers
Still not sure?

There is so much more that we can do for you, so don't hesitate a moment longer, give us a ring on (03) 9855 0006 or drop in and we may be able to help.
What if I am not near Melbourne?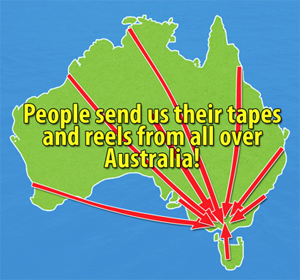 If you are not near Melbourne don't despair. Just download, print and fill-in our DVD transfer postal order form below and send it to us with your tapes or reels via Express or Registered Post and leave the rest to us. We will ring you when we receive your order to let you know it has arrived safely and arrange payment. You may also include a self-addressed Express Post bag with your order to avoid a postage and handling fee.
Please note: Please do not send us copyright material to transfer to DVD unless you are the copyright holder (proof will be required) or have written permission from the copyright holder (this will be required with your order also).